Connecting People, Places & Things. 
The pace at which cities are adopting newer technologies including 5G, Artificial Intelligence (AI), Drones, Internet of Things (IoT) and Cloud to transform into a Smart City is growing multifold to deliver unmatched service experience and cost savings. IoT as a technology has already secured its place in Digital transformation of cities to deliver innovative and sustainable solutions to solve complex metropolitan challenges of managing water, waste, energy, traffic, parking, ports, healthcare, environment, emergency services to name a few.
Even tough technology adoption is happening at a rapid pace, optimized placement of sensors, data from disparate sources, connectivity technologies, high maintenance costs, and security risks. CIO's and city administrators often face these formidable challenges to realize the business value of IoT implementations.
This drives the need to have a robust platform to process, analyze and utilize this data and convert into Smart City solutions delivering unmatched service experience, positive business outcomes and quick return on investments. Critical infrastructure investments such as IoT platforms require careful considerations. Our complete suite of IoT solutions and out-of-the-box services addresses a critical gap in the marketplace to make IoT adoption easier.
Nivid's "N-Smart" is a modular, flexible, and scalable IoT 'as a Service' platform that has the capability to manage assets, optimize sensors placement, and perform data analytics with built in workflows for any Smart city use case, delivering a single pane view of end-to-end IoT deployments. Orchestrating heterogeneous devices and huge amounts of data collected from these devices is key for IoT initiative success. N-Smart turns data from a myriad of sources into useful, contextual information for CIO's, Technology teams and City administrators to act upon quickly and make data driven decisions.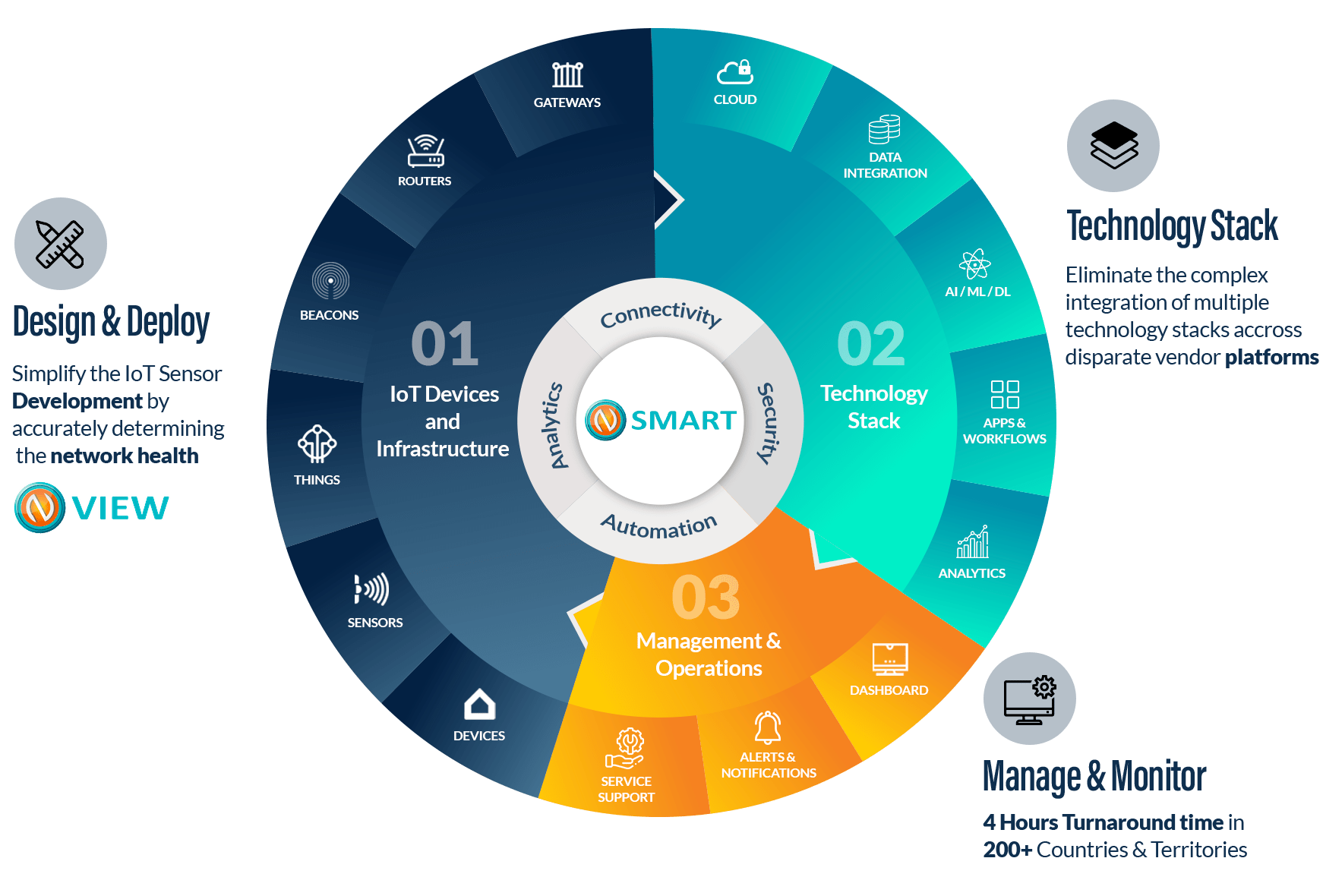 Our IoT based Smart city use cases include waste management, asset tracking, energy and utilities, infrastructure, and parking to name a few. We deliver innovative and sustainable Smart City solutions embracing the capabilities of IoT, to make cities safer, secured, and connected to help people thrive.
Internet-of-Things (IoT) is an eminent technology for realizing Smart City vision. Learn more about our IoT as a Service platform and accelerate the journey from connectivity to business transformation. Visit nsmart.io
Nivid Technologies is a leading Network Transformation and Infrastructure management company, focused on delivering technology 'as-a-service' covering strategy, design, implementation, and managed services. We offer the latest in wireless technologies (WLAN, Cellular and IoT) and system integration services to deliver results that redefine the business value for an enterprise, offering mobility and analytics as strategic differentiators.